Visveswaraya is Evidently Excellent
Visveswaraya is the Institute with most number of All India Ranks.Our students have won 177 All India Ranks for AMIE.
A Varied & Fascinating Experience
AMIE RANK HOLDERS OF 2003
The Ranks were bestowed on them by Sri. Babulal Gaur, Chief Minister of Bhopal on 16th October 2004 at BHEL Sanskrithi Hall, Bhopal.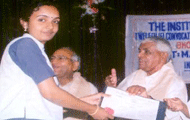 Sangeetha M. V. (ST. 420543 - 5)
First Rank Section - A (D) & Ladies First Rank W.'03
Shanty K. (ST. 420266 - 5)
Second Rank Section - A (D) & Ladies Second Rank W.'03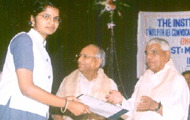 Smitha P. L. (ST. 421223 - 7)
Ladies Third Rank Section - A (D) W.'03

Abhilash K. (ST. 405169 - 1)
First Rank Section - A (D) S. '03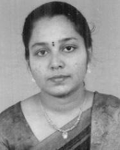 Reshma T. V. (ST. 329183 - 4)
Ladies Third Rank Section-A(D) S.'03

Jacob Philip
, (ST. 389819 - 4)
First Rank Section - B & Computer Engineering W.'03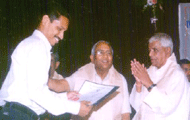 Shinoj A. K., (ST. 386377 - 3)
Civil Engineering First Ranks & Bhupesh Nandhi and Rekha Nandi Award W.'03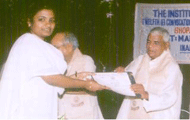 Savitha Thomas, (ST. 376639 - 5)
Electronics & Commn. Engineering First Rank W. '03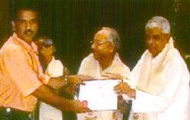 Biju K. V., (ST. 374733 - 1)
Electrical Engineering First Rank S. '03